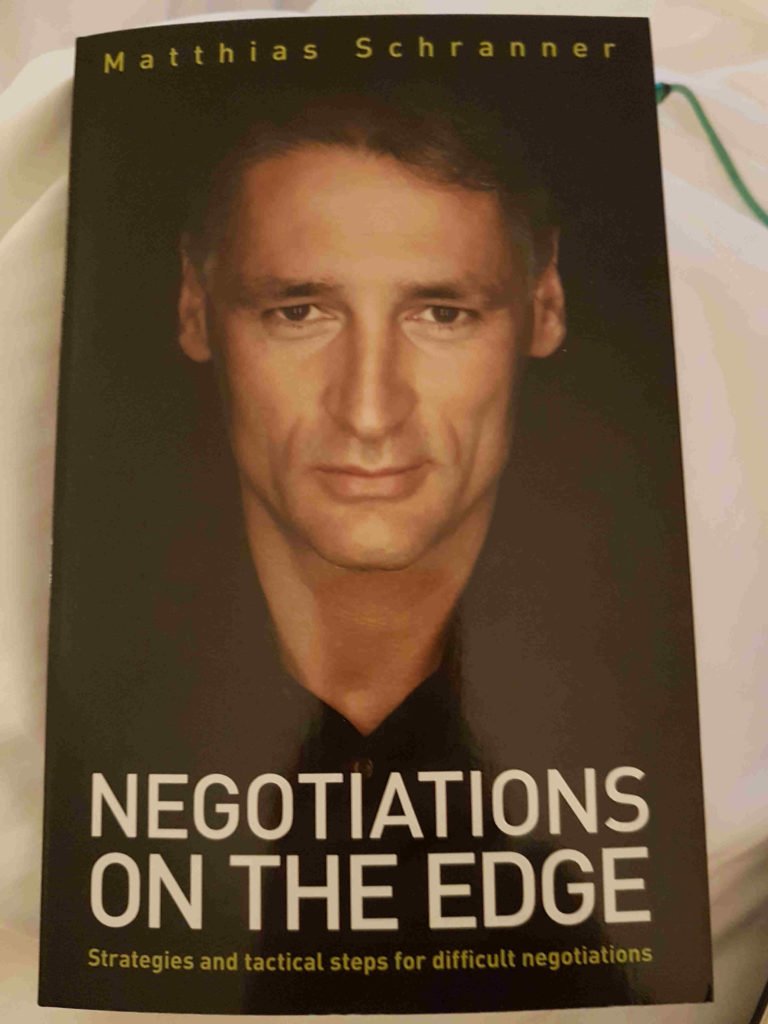 I attended a seminar about tough negotiations. It was fascinating! One of the most useful things I learnt was that bad negotiators get too emotionally involved in the situation. You should never send in a relationship-oriented person to negotiate as you'll destroy the relationship and the negotiation. This is because a relationship oriented person cares about people pleasing and maintaining the relationship. They think about long term rather than short term. They often fight for the customer and not their own company. Also, surprisingly to me, salespeople shouldn't negotiate. They should focus on selling (giving arguments of the benefits). When it comes to negotiating, they get emotionally involved as the sale can impact their personal commission and their long term relationship. So ideally you'd send in someone removed from the situation, who knows nothing about it, just to focus on the negotiation (eg lawyers are good at this). Failing that, if you have to negotiate yourself, just being aware of your own and your negotiation partner's emotions and stress level will help.

The seminar covered a lot of detail about how to actually negotiate, however the main mistake people make is that they don't prepare well enough in advance of the negotiation. So below are some of my notes from the seminar giving 5 tips on how to prepare prior to a negotiation to get the outcome that you want.
Seminar details
| | |
| --- | --- |
| What is it? | A one-day workshop about tough negotiations, covering advanced strategies for difficult negotiations, such as how to deal with unjustified demands, how to manage stressful negotiations, how to negotiate with difficult partners, and how to use deadlocks to your advantage. |
| Speaker | Matthias Schranner, CEO and Founder of the Schranner Negotiation Institute. Matthias used to negotiate hostage situations working for the german police and now helps Fortune 500 companies, governments and the UN negotiate big deals. |
| Date | Friday 15 June 2018 |
| Location | Zurich, Switzerland |
| Size | approx. 25 attendees |
| Website | https://www.bmw-i-pure-impulse.com/events/negotiations-on-the-edge/ |
A negotiation is not about being right or wrong. There is no point telling your negotiation partner that they are wrong or to "think about it rationally", because they think they are right. A negotiation is not to convince your negotiation partner but to reach an agreement. In negotiation, there is always a conflict, but there is also always a common interest. Focus on the common interest.
1. Know when to negotiate:
| | |
| --- | --- |
| SALES PHASE | During this phase, you need information, data, figures, charts and arguments. You need convincing. Eg. When buying a car, should I buy a BMW or Mercedes? Should I get it in blue or red? What size engine? |
| MAKE A DECISION | This is when both parties have decided on the desired outcome and are in the same common situation. Eg. customer wants to buy a red BMW and a salesperson has that same car to sell. |
| NEGOTIATION PHASE | During this phase you need to switch your mindset from sales to negotiation. No more selling. You don't need any additional information. The aim is not to convince but to reach a target. Eg. negotiate the price of a red BMW. If you try to convince, you can end up in an emotional situation. This is why it can be wrong to let salespeople negotiate. Sales try to show the benefit, improvements etc. and keep using arguments/information to sell. But the customer is already convinced of the benefits and has decided. Don't sell but negotiate. |
2. Define your target and walkaway position
People often prepare for the sales phase (have lots of information and arguments) but they don't prepare for the negotiation itself. Prior to a negotiation, determine 2 positions:
Have a clear target – what you want the outcome to be. Make sure this is a real target and not just a wish (way above expectations).
Know your walk away position. This is the minimum you are willing to accept, to the point where if an agreement isn't reached then there is no deal. You need to be willing to walkaway, otherwise you'll lose all your power and can't negotiate. You'll just accept what the other person offers.
Don't just say it's complicated and you can't define the target and walkaway position now, you'll decide later. If you decide later, it will be under pressure and be an emotional decision rather than strategic and you're unlikely to get the best possible outcome. Negotiate prior and not under pressure.

Once you have these 2 positions, you want to make your target visible and keep your walkaway position private.
Eg. I want to sell an item for £100 (target) but secretly willing to settle for £75 (walkaway position). You'd tell the other person you want £100 (or more) for it. The other person may want to pay £60 (their target) but would pay £90 for it (their walkaway position). They tell you they want to buy it for £60 (or less). You both know each other's target but not the walkaway position.

What the person tells you (the target) is not important. The aim is to find out their walkaway position. However, you can't just ask the person what their walkaway position is, as they won't tell you the truth so you'll force them to lie (as they don't want to lose face). Similarly, never ask for the best and final price (as it's not the truth either).

A third thing to prepare in advance is what you can do if your negotiation ends in disagreement/deadlock, where both parties can't agree. The only way to move forward is to either part ways or to introduce a new demand. Eg a seller may suggest that if the buyer purchases 3 items (instead of just 1), a new price of £70 each (instead of £75-100) would be accepted. Or if the buyer purchases the 1 item the seller can in addition also give (for example if it were a series of books) online access and a pdf copy for a total of £100.
Here you are offering a slightly different new demand compared to the original demand, which can alter the target and walkaway positions for both you and your negotiation partner.
The new demand should be of value to the other person. Eg. If a person is buying a car, having the salesman offer 3 cars for a cheaper price probably won't end in agreement, as the buyer just wants 1 car (not 3). However, if the seller offers a price for 1 car that includes the first year's service and road tax, car mats, a sat nav and a full tank of fuel, this may be appealing to the buyer.

Always start with a high demand. If you say your demand first it shows the person you're in a powerful position. If you think you don't have power, you won't say your demand first, as you'll wait and see what the other person offers as a starting point.

3. Know how you react when stressed
Stress has nothing to do with rationality. If you negotiate under pressure, people can offer you exactly what you want and yet you say no as you become too emotionally involved so you make mistakes. Knowing how you and your negotiation partner handle high pressure can help you manage the negotiation. With the maximum stress levels raised, how do you react in a stressful situation? Are you a fight or flight type of person?
| | |
| --- | --- |
| FIGHT: you fight back | If you fight back, you risk destroying the relationship. You may threaten your opponent and tend to talk too much during a negotiation, giving away too many details, presenting unprepared arguments that can easily be unraveled and become emotionally involved focusing on trying to justify a position (rather than negotiating). |
| FLIGHT: you want to get out of the situation quickly | If you take flight and try to get out of the situation as quickly as possible, you show your negotiation partner that you are weak and lose your power. You tend to try to postpone/delay the meeting by suggesting it's rescheduled or compromise quickly, signaling that applying pressure to you works (so your opponent can apply more pressure to get more of what they want). Also, you may want to bring in someone else to help negotiate, eg your manager. This is not a good move either, as your negotiation partner will ignore you, as you are irrelevant with no power, and just talk to your manager, who is viewed as the decision maker with power. If your manager joins, your opponent knows you are in a weak position and there is room to compromise as you couldn't negotiate yourself. |
Once you've identified if you're a fight or flight type of person, you will know what your basic instinct reaction is and you can avoid it. Fighters must stop talking and flight types must face the situation head-on. Be ready for your opponent to use it against you to try to manipulate you.

You can analyse your negotiation partner to find their weakness by testing them (push their button to raise their stress level) and wait for a reaction. Eg. Is the person action oriented (they just want to get the deal done) and hate detail? If so, raise their stress by asking questions, and then re-asking the same question for clarity. Get them annoyed/frustrated so they focus on that rather than the negotiation.
4. Be aware of cultural differences.
Know the culture of the person you're negotiating with to avoid any cultural issues, such as common language and specific customs. Below are some cultural stereotypes related to negotiations:
Americans are the most difficult culture to negotiate with for other nationalities. You think you know them (eg in Europe we watch their movies, read their news/media and listen to their music etc.) but we don't actually know them.
Germans try to get an agreement at the beginning. China and India never do early agreements. (In general, don't commit too early as you'll lose face.)
In India, there may be agreed signed contracts but they often don't stick to them and agree terms afterwards.
In China, small talk lasts days. In the UK, small talk is minutes. (For small talk, keep it light, no politics, and the conversation should go back and forth, not one-sided).
In the Netherlands, they are very good negotiators, as they are positive, friendly and yet hardball.
5. Don't make threats. Be respectful.
By making a threat you risk creating an enemy. Don't make a threat, but you can give a warning and position yourself as not a problem but a problem solver, being there to help. Eg. "due to a compliance issue there will be a delay unless…." and then talk about how you can help if they do what you say.
Eg. look at Donald Trump. He is a good negotiator as he doesn't compromise and, arguably, he puts America first. However, he is not always viewed as being respectful.
You have to be respectful. Be very polite, positive, friendly and charming. Focus on sharing common interests.

Additional Resources